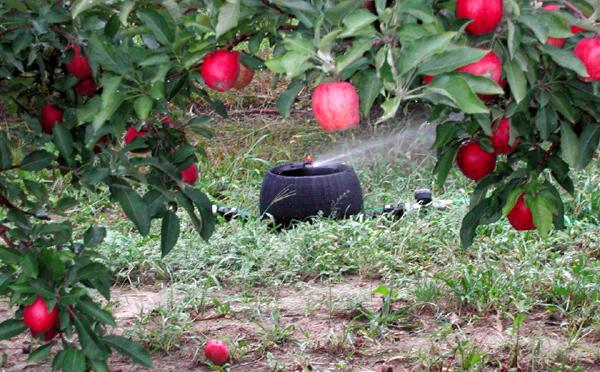 Developed in response to the unique and demanding requirements of horticultural irrigation, our latest range of K-Line products and fittings are a cost-effective and flexible option for irrigating a wide range of tree crops.
Improving upon the success of our original K-Line pod technology, our pop-up sprinklers now have a low angle trajectory that is designed to ensure that crop foliage is not irrigated during normal irrigation. This helps to minimise disease and fungal growth over the course of the growing season.
Our latest product range also includes our patented K-Line Karousel technology, which allows our improved K-Line irrigation pods and K-Pipe irrigation lines to be turned by 90 degrees. This gives growers the ability to irrigate as many as three rows at once, without the need for additional pods and piping.
With K-Line able to be employed in irrigation lines of up to 12 pods, rows as long as 180 metres can be irrigated by a single line. At a volume of 400 to 800 litres per hour, depending upon pipe size, this capability provides an excellent option for growers of many varieties, such as stone fruit, pip fruit and avocados.
The options available include three sizes of K-Pipe – 32mm, 40mm and 45mm – and four different nozzle types for the pop-up sprinkler.
Drought Solutions
In recent years, unpredictable weather patterns have significantly increased the risk of drought in many key horticultural areas like Northland and Marlborough, with the result that even growers of traditionally resistant crops such as avocado, can no longer rely upon rainwater alone for a good harvest.
The reality of the present environment means that while warm and dry conditions offer increased growth potential for many orchards, there is also a need to ensure that adequate water can be provided at critical times. In many cases, this is the greatest limitation that growers face in terms of achieving improvements in harvest yield.
As a flexible system, K-Line irrigation technology can be moved around to cover vulnerable areas, with the added advantage that, unlike standard micro-irrigation systems, it can be completely removed at harvest time.
Operating at full capacity, with each pod placed 12m apart, a single irrigation line can provide a 180m x 12m strip of vegetation with up to 5.5mm of water per hour, for a recommended minimum of four hours.
Irrigation for Tall Crops
The new K-Line orchard range also includes 1m and 2m risers that allow for the use of K-Line technology for tall crops. Based upon our successful maize risers, developed in co-operation with Chilean agricultural cooperative Cooprinsem, the risers come complete with a Nelson RD33 sprinkler that can achieve a flow rate of 800 to 1800 litres per hour.
As with the pop-up pods, the 1 and 2m risers can be used in conjunction with the K-Line Karousels, allowing them to be rotated through 90 degrees, and to be completely removed at harvest time.
Improved Fittings Range
Our latest range of more than 100 low density pipe fittings, developed through a year's worth of research and testing, has been designed to meet the highest standards of quality and performance.
Manufactured in Ashburton, the distinctive green fittings are injection moulded from glass reinforced nylon using the latest in precision machine technology. This ensures that they are not only frost resistant, but are able to provide an exact fit to the corresponding irrigation pipe – preventing joins from leaking or coming apart.
The new LD fittings range covers every possible variant, from reduced tees to male and female fittings, bends, couplings and brackets. These can be connected to pipe sizes ranging from 15mm to 50mm, making them ideal for commercial horticulture and amenity irrigation solutions.
About the Author

More Content by Phil Gatehouse